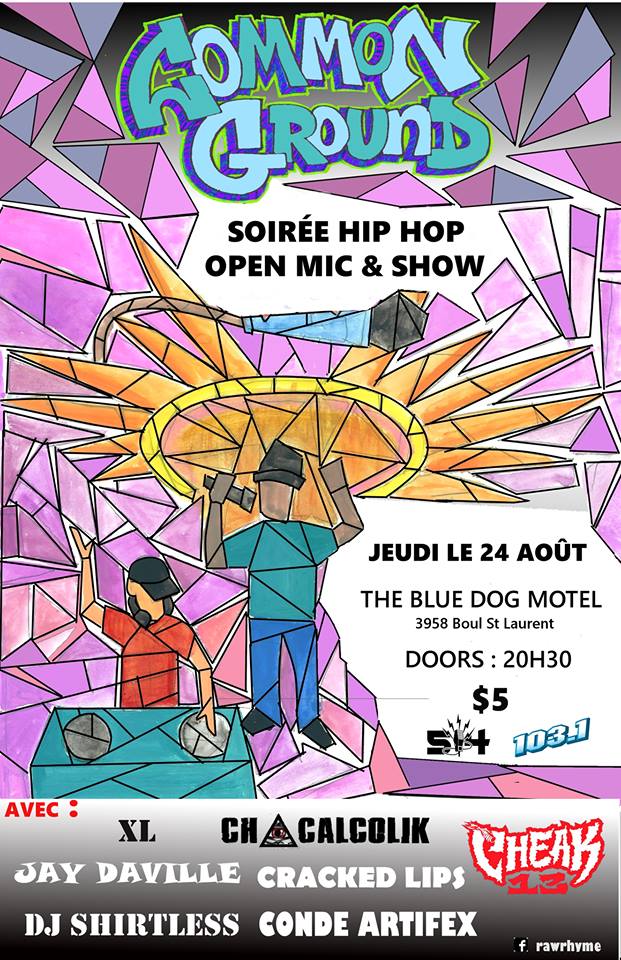 COMMON GROUND MTL SHOW AOÛT

| | |
| --- | --- |
| | X.L. |
| | August 24, 2017 |
| | 8:00 pm |
| | Montreal |
| | The Blue Dog Motel 3958 Boulevard Saint-Laurent, Montreal, Quebec H2W 1Y3 |
| | Google Map |
Achetez Vos Billet - Buy Tickets
COMMON GROUND MTL – SOIRÉE HIP HOP : OPEN MIC & SHOW AOÛT
– Trouver Xl au Blue Dog Motel. Les billets sont maintenant disponibles à travers tous les artistes Squash Comp ou en ligne.
– Find XL at The Blue Dog Motel. Tickets now available through all Squash Comp artists or online.
⚡HOW MANY MICS DO YOU RIP ️🎤
ATTENTION à TOUS les amoureux du hip hop, aux lyricistes et aux chanteurs R&B de MONTRÉAL !!! Common Ground MTL, Édition AOÛT est ARRIVÉ. C'est une occasion de présenter vos rimes et votre voix, en DIRECT devant un public.
Common Ground MTL c'est une nuit de rencontre et de création… des nouveaux artistes et les plus expérimentés ensemble, sous un même toit. Saisissez l'opportunité de vous faire entendre… !!!
Cette fois ci, plus d'open mic!!!
𝗘𝗡 𝗣𝗟𝗨𝗦, 𝘃𝗲𝗻𝗲𝘇 𝗽𝗿𝗼𝗳𝗶𝘁𝗲𝗿 𝗱'𝗨𝗡 𝗖𝗢𝗡𝗖𝗘𝗥𝗧 𝗶𝗻𝘁𝗲𝗿𝗽𝗿é𝘁é 𝗽𝗮𝗿 𝗹𝗲𝘀 𝗺𝗲𝗶𝗹𝗹𝗲𝘂𝗿𝘀 𝗿𝗮𝗽𝗽𝗲𝘂𝗿𝘀 𝗹𝗼𝗰𝗮𝘂𝘅. 𝗔𝗿𝘁𝗶𝘀𝘁𝗲𝘀 𝗶𝗻𝘃𝗶𝘁é𝘀 𝗧𝗕𝗔.
————————–————————–————————–—
** Inscrivez-vous à la porte ou par message privé. Le plan du déroulement de la soirée sera bientôt disponible. 
** Si vous voulez utiliser votre propre musique, apportez-la sur une clé USB. Le DJ va scratcher pour tous les artistes qui se présenteront. SI JAMAIS LE FREESTYLE VOUS PREND !
$5,00 à la porte et en ligne.
============================================
To all you rhymers, R&B singers, beatmakers, hip hop heads and emcees. COMMON GROUND MTL IS BACKKKKKK, AUGUST FLAVA. This is your chance to get up on stage and give it YOUR ALL, to perform in front of a live audience and meet new emerging underground artists like yourselves.
Common ground MTL is a night of coming together and risk taking… Uniting Montreal's finest since 2017, under one roof.. 😀 This time, open mic will take place for a longer period this time.
𝗘𝗡𝗝𝗢𝗬 𝗟𝗜𝗩𝗘 𝗣𝗘𝗥𝗙𝗢𝗥𝗠𝗔𝗡𝗖𝗘𝗦 𝗳𝗿𝗼𝗺 𝘀𝗼𝗺𝗲 𝗼𝗳 𝘁𝗵𝗲 𝗰𝗶𝘁𝘆'𝘀 𝗯𝗲𝘀𝘁 𝗹𝗼𝗰𝗮𝗹 𝗿𝗮𝗽. 𝗜𝗻𝘃𝗶𝘁𝗲𝗱 𝗴𝘂𝗲𝘀𝘁𝘀 𝗧𝗕𝗔.
————————–————————–————————–——-
**Sign up at the door or through inbox. Itinerary of the night will be made available shortly.
**Bring music on USB the night of, if necessary. DJ will be scratching for all artists. COME WITH YOUR FREESTYLE FRAME OF MIND.
$5,00 at the door and online.